KNIGHT BULLMASTIFFS


LAKE VILLAGE, INDIANA
219-992-9092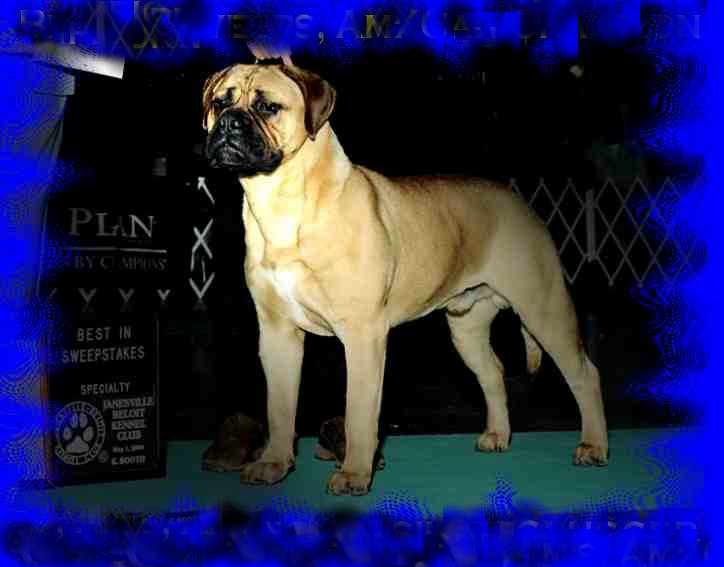 BEST IN SWEEPS/AM/CAN CH IRONBULL KNIGHTS SILVERSLUGGER
(Pictured at 9-1/2 mos.)
Welcome to the home of Knight Bullmastiffs. According to the dictionary Knight is defined as a devoted champion or attendant, a devoted follower; this describes the Bullmastiff dog totally, which is why we chose Knight as our kennel name. We hope you take the time to view our site, and to meet some of our "family members". Enjoy your visit!

Knight Bullmastiffs is a small kennel. located in Lake Village, Indiana, dedicated to the Bullmastiff breed. Although fairly new to the Bullmastiff, 9 years in 2005, we raised Rottweilers for 15 years prior to getting into the bullmastiff breed. We placed a strong emphasis on temperament and intelligence in our Rottweilers and we do with our Bullmastiffs today. We are strong believers in breeding for the betterment of the breed, not just to breed. (click here to see one of our Rotties nursing a blind baby deer)Our Rottweilers were registered with the Delta Society as Therapy Dogs and were a credit to the breed. We hope to do the Bullmastiff Breed the same justice that we practiced in promoting our other dogs. We will not sell any dogs to pet stores or commercial breeders. All Bullmastiff dogs or Bullmastiff puppies placed will only be placed in loving family homes.
We are always happy to share our love of the bullmastiff, our experience, and occasionally our bullmastiff puppies.